Fly Cheaper Using Courier Services in the US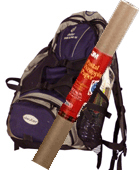 The best method of applying for subsidized courier flights in the United States, is by joining the International Association of Air Travel Couriers.
| | |
| --- | --- |
| They are effectively a broker, working between the various courier companies, and the prosective couriers, providing one location where one can get the best deals on courier flights. The upside is it saves you a lot of legwork, and you can join for a small fee, instantly giving you access to just about all of the courier flights available. The downside is obviously it's also available to everyone else, so you still have to be both vigilant to catch the right flight and flexible about when you travel. | |
Other benefits include better discounts on the flight prices, but also a member's area giving you plenty of other tips and information on cheap air travel, so even if you can't find a suitable courier flight, you can still make some savings.
You can find the International Association of Air Travel Couriers at their website:

They aren't just a source for people living in the USA, you can in fact join from anywhere in the world - they provide probably the largest repository of information for Courier travel, and invite members worldwide to involve themselves by contributing articles and information.
If your flying out of one of South Floridas main airports FLL or MIA. Check out one of our sister sites Fort Lauderdale Airport Transportation for info on transportation and how to transfer between those two airports.
What is an air courier?
An air courier is simply a person who carries shipping documents on international flights for a courier company in exchange for a reduction in the price of the ticket. Picking the documents up prior to boarding the flight, and dropping them off at the other end.
Our Friends

Great deals on North Face Backpacks on Amazon!
If your flying in to either Fort Lauderdale or Miami airports before your flight. Head on on over to one of our other sites Fort Lauderdale To Miami for transportation tips and information on how to transfer between those two airports.